Clutter hotspots are not uncommon in most homes. These can include rarely used or hidden spaces where things are stuffed and forgotten for a while. Also, they could be empty or flat areas where unnecessary items can be easily placed. Although such locations may appear to be convenient for temporarily storing your things, it will look unpleasant once the items start to pile up.
As a result, you'll spend too much time looking for the things you need in a cluttered area. What's worse is that you'll be forced to purchase a replacement for something you believe to be lost only to find it later. Also, when you clean your house, disorganized areas may take longer to clear or rearrange. Sometimes, it may take a day or two to completely clean and tidy up these spaces, for example your garage.
To help you out, this article describes some of the most common clutter hotspots in your home and how to organize them:
Garage
One of the places that are likely to be filled with clutter in any home is the garage. Usually, this is an area reserved for your vehicles. However, it can slowly turn into a messy space if you keep using it to store boxes that contain items you no longer use such as tools, sports gear, bicycle parts, old clothes, and toys. Eventually, your vehicle will have to be parked on the driveway, which puts it at risk of theft.
You can store your car in the garage and use it for other purposes, but you must employ efficient organizing techniques. Start by clearing it out. To get rid of the things you no longer need, you can either donate them or sell them on a yard sale.
After that, install shelves and add storage baskets to keep the items organized. If you have tools, pegboards may be an excellent solution to consider. For lawnmowers and other larger equipment, have a place set aside for them. Ensure that your items don't take up much space, so you can have enough to park your car comfortably.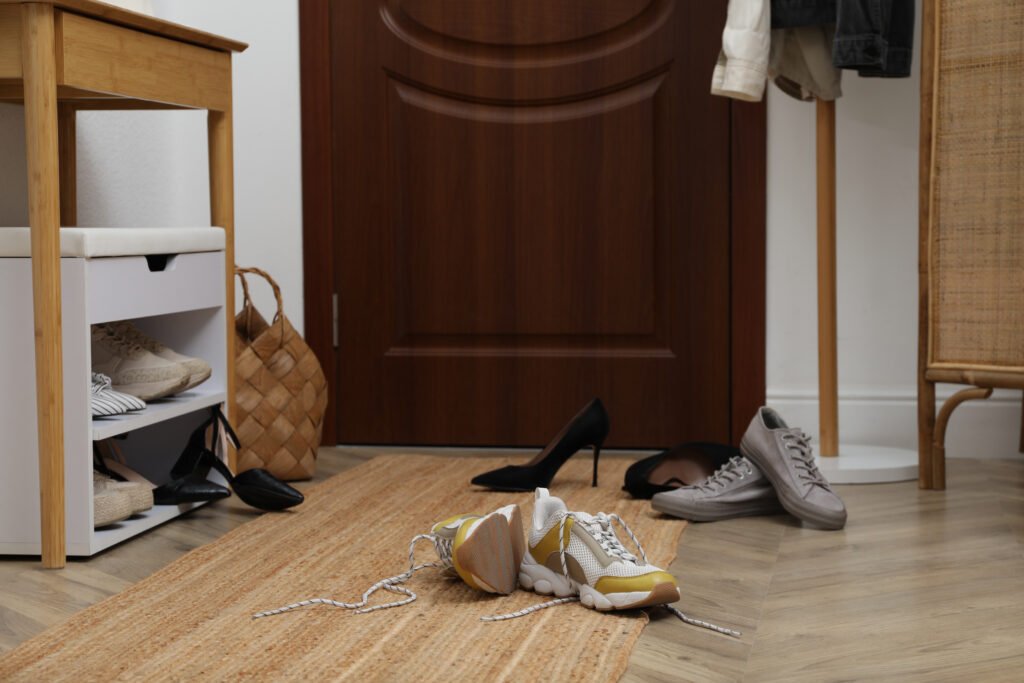 Entryway 
Another clutter hotspot in many homes is the entryway. This space can easily accumulate clutter because it's the first place you step into upon entering the door. You and your family might find yourselves dumping keys, wallets, handbags, shoes, school bags, jackets, and loose change into this space. When things pile up after a while, your entryway will become unsightly.
Since it's the first thing guests see when they enter your home, it should be clean. To ensure this space is always tidy, install key hooks and coat hooks on the wall. Small cubies would also be ideal for your mail. You can also have wicker baskets for bags, hats, and scarves.
To keep your shoes neatly arranged at the door, a shoe rack will be a great storage option. When looking for a shoe rack for your entryway, consider those with drawers for your magazines or mail. If the shoe rack has a flat surface, place small baskets for your loose change or wallets on top of it.
Kitchen Counter
Your kitchen counter could also accumulate clutter over time. Because of its flat and wide surface, you're likely to leave food, spices, shopping lists, cutlery, school papers, dish towels, and other items on it. Your counter will become a clutter haven if you continue to do this for two or more days. Eventually, you'll end up with a kitchen that looks messy.
To ensure your kitchen countertop looks neat, store small appliances, spices, and food in the pantry if you have one. If you don't, organize these items neatly in your cupboards. Also, get floating shelves for your magazines and recipe books and buy pinboards for your shopping and to-do lists. Additionally, purchase sturdy hooks to hang utensils and kitchen towels and have a junk bowl for your random items.
Whenever possible, leave only the items you often use on your kitchen countertop. However, ensure that you put these things in order. For instance, if you have small appliances, select a designated area where you can place them. For your spatulas or wooden spoons, you can buy a container that's specifically made for them. Alternatively, you can store them in a tall jug.
Besides that, ensure you always leave the kitchen clean and well-organized after every use. If you have little time, hire a professional cleaning company or employ a housekeeper if you prefer a long-term option.
Conclusion
Keeping your home organized might seem daunting, but it doesn't have to be. All you need is to ensure that everything is stored properly. In this article, you've learned about the three areas in your home that could easily accumulate clutter. These are the garage, entryway, and kitchen countertop. This article also offers some organizational tips that could help you make these areas clean at all times.
Make sure you regularly declutter your home to keep it looking tidy. Also, encourage your family to adhere to your organizational practices to prevent clutter hotspots in your home.