Electricity will always be part of the daily operations of businesses. A company relies on electricity for important systems such as lighting, security, machinery, and computers. A commercial electrician plays a crucial role in ensuring the electrical system in the workplace is in good shape.
Finding the right one should be a priority should any electricity-related concerns and emergencies that may arise. However, with various options available, choosing the right electrician that can cater to your company's unique needs can be challenging.
Remember that hiring an inexperienced electrician can be disastrous for your business. Hiring an inexperienced electrician can be disastrous for your business as it can lead to costly downtime, revenue loss, and even damage your reputation. It is crucial to take the time and effort to find a commercial electrician with the necessary skills, experience, and qualifications to get the job done right.
What Is A Commercial Electrician?
As the name implies, a commercial electricians are responsible for diverse electrical tasks and projects in commercial buildings. The job scope involves installing, repairing, and updating the electrical system and other components such as receptacles, transformers, generators, and lighting.
Commercial electricians may also work on construction sites for commercial buildings and carry out repairs or maintenance on electrical systems. In most cases, they must complete their job in early morning or late at night to avoid disruptions to business or retail hours. One way to ensure a head start in your search is to check out this link to learn what level 2 electricians can do.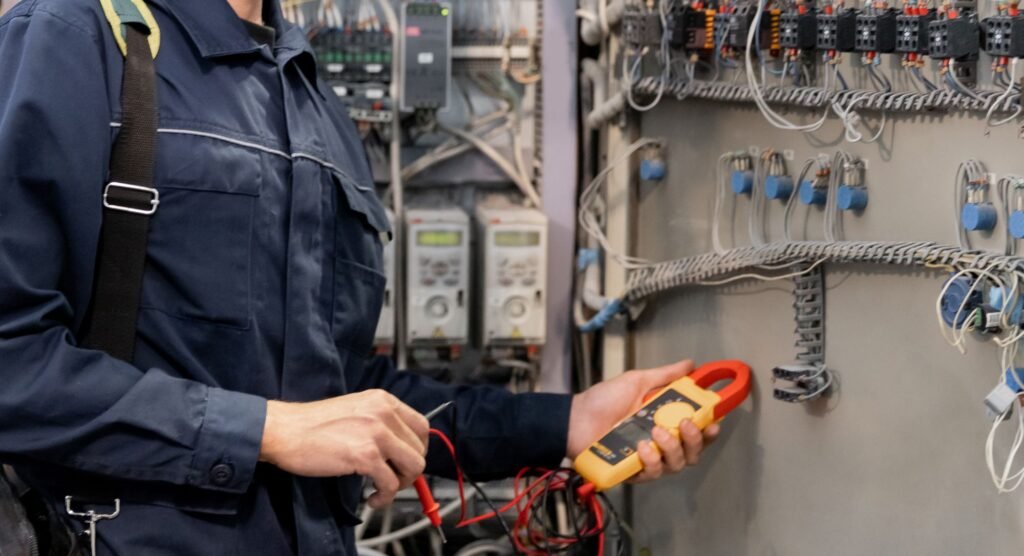 Key Qualities To Keep In Mind When Hiring A Commercial Electrician
Finding the right commercial electrician is important to ensure your company's safety and maintain the seamless flow of daily operations. Here are several key qualities to watch out for when searching for a commercial electrician.
Years Of Experience And Specializations
Electrical work in a commercial setting is more complex than residential jobs. With this in mind, working with a commercial electrician with experience and specialization in commercial projects is crucial.
Commercial electrical systems have unique structures, characteristics, and challenges that require specialized knowledge and expertise. In contrast, residential systems often have simpler issues that can be easily fixed by troubleshooting blown fuse or tripping breakers. If you plan on hiring one soon for your company, ask about relevant experience, the type of training received, and knowledge of these projects.
Licensing And Certifications
Managing a company comes with certain liabilities, including the professionals hired to service the workplace's electrical system. Ensure that the commercial electrician you'll hire has the proper licensing and insurance for the project they'll handle. Their insurance policy should cover any injuries that may occur on the job or any issues that arise during the project. This will protect you and your company from any possible liability.
Communication Skills
Electricians should have strong communication skills as part of their job, and it is important to prioritize this quality when hiring a commercial electrician. The electrician should be able to explain complex electrical issues clearly and straightforwardly. Additionally, you must ensure that they can work in a team as you deal with your company's concerns in the best way possible. If an electrician is not friendly or professional, it's best to move on to the next candidate on your list.
Reputation
Reputable commercial electricians establish a good reputation by providing references from previous clients and delivering quality work. When hiring a commercial electrician, it is important to check reviews and testimonials to learn about their previous jobs, clients' feedback, and work portfolio. It is essential to examine both positive and negative feedback to make an informed decision about the right electrician for your company.
Availability
When hiring a commercial electrician, availability is also an important factor to keep in mind. A trustworthy electrician should be readily available to conduct routine maintenance, tackle emergencies, and manage large-scale projects. They should also be able to provide a timeline and an estimated completion date and stick to it. Should there be any delays in the project, they should also be transparent enough to let you know about it.
Remember that you should hire a commercial electrician capable of performing upgrades or replacements later. For example, if there are two-prong outlets in your workplace, consider upgrading them to maintain electrical safety at all times.
Final Thoughts
To maintain the safety of your business, it is crucial to hire a reliable commercial electrician who can carry out electrical projects safely and efficiently. During your search for a commercial electrician, it is important to consider key qualities that will help you find the right professional quickly and easily.