In recent years, people in Doan Ket commune, Trang Dinh district have actively expanded the area of ​​cinnamon growing, making this become one of the main crops in the area.
Realizing that the advantages of the Vietnam cinnamon , which is suitable with the natural conditions of the commune, in 2012, the family of Mrs. Nong Thi Thuy in Quyet Thang village boldly bought seedlings in Yen Bai province to plant in an area of ​​nearly 3 hectares. Ms. Thuy said: "During the process of planting and taking care of the tree, seeing that the tree grows well, so far, after more than 8 years, my family has grown over 6 hectares of cinnamon trees. At the beginning of 2020, my family exploited cinnamon for the first time, and got nearly 5 tons of fresh cinnamon bark, equivalent to about 2.5 tons of dried cinnamon. With the selling price of 50,000 VND/kg of dried cinnamon, my family has an income of over 100 million VND, not to mention selling cinnamon branches and leaves".
Not only Mrs.Tuyet's family has a high income from cinnamon trees, at present, in the commune, but there are also 10 households with incomes from 80 to 100 million VND/year from cinnamon trees and more than 20 households with incomes from 50 to 60 million VND/year, for example, Mr. Nong Van Quan of Thong Nhat village; Mr. Nong Van Hung of Na Bac village; Ms. Nguyen Thi Hang Nga of Na Slan village; Tran Van Khanh of Quyet Thang village.
Through research, we know that cinnamon was planted by the people of Doan Ket commune about 30 to 40 years ago, this is one of the first cinnamon growing communes in the Trang Dinh district. However, at that time, cinnamon was not yet a commodity. Since 2015, when many households have had a high income from cinnamon trees, the new cinnamon growing movement has flourished. At present, there are 284 households in the whole commune, and every household grows cinnamon. Currently, the area of ​​cinnamon in the whole commune is 775.9 ha.
Ms. Hoang Thi Be in Nam Cho village said: "Compared with other crops such as acacia, eucalyptus, cinnamon is appropriate with natural conditions here. With more than 6 hectares of cinnamon, in 2019, my family pruned some big trees, earning 20 million VND, this year is expected to earn over 100 million VND.
Determining cinnamon as a key crop, in recent years, the Party Committee and commune authorities have paid attention to direct and synchronously implement many measures such as loan support, training in planting, and caring techniques for cinnamon. Along with that, the Commune People's Committee directed organizations and associations to receive entrustment for people to borrow preferential loans with the Bank for Social Policies for Economic Development (including cinnamon) over 8 billion.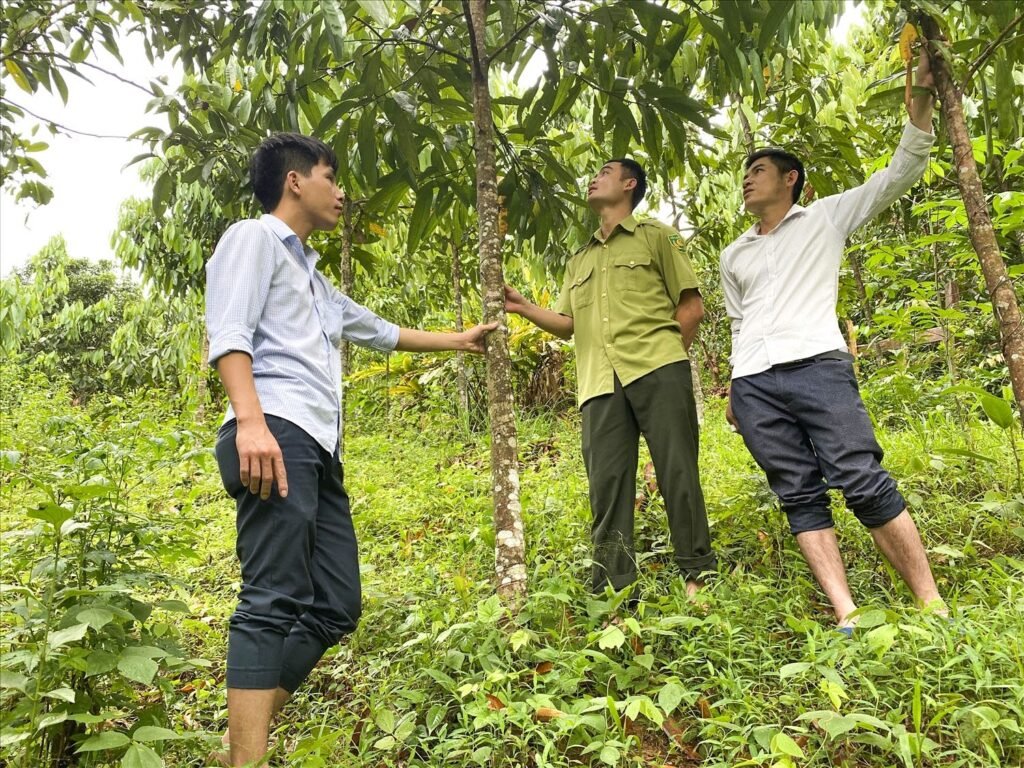 At the end of 2019, in the commune, Tuan Vu Agricultural Cooperative was established to purchase all cinnamon products for people at stable prices. If in the past, cinnamon farmers after mining had to wait for traders to buy or be forced to buy, then since the cooperative has been established, people have assured to invest in the development of cinnamon trees.
Mr. Hoang Van Thu, Chairman of the Commune People's Committee said: "According to statistics, in the first 7 months of 2020, the total output of cinnamon bark, branches, and leaves in the commune sold to the market reached a value of over 3 billion VND. Economic efficiency from cinnamon has been helping many people in the commune escape poverty and get rich righteously. Thereby, people's living standards are increasingly improved, contributing to reducing the poverty rate of the commune to 26.8% in 2019, down over 9% compared to 2018."