FMLA is the abbreviation for Family Medical Leave Act, which was approved in 1993 under United States Labor Law, for the protection of employees. The FMLA allows the employees to take an unpaid, twelve-week off from their work and have the right to return back to their jobs at the same position, pay, and benefits. Reasons to qualify for the entitled leaves include; adoption, foster care placement, pregnancy, family or personal ailment, or also includes military leave. The FMLA is envisioned to offer families the time and resources to deal with family emergencies, while also guiding employers. The details to learn about FMLA are given below.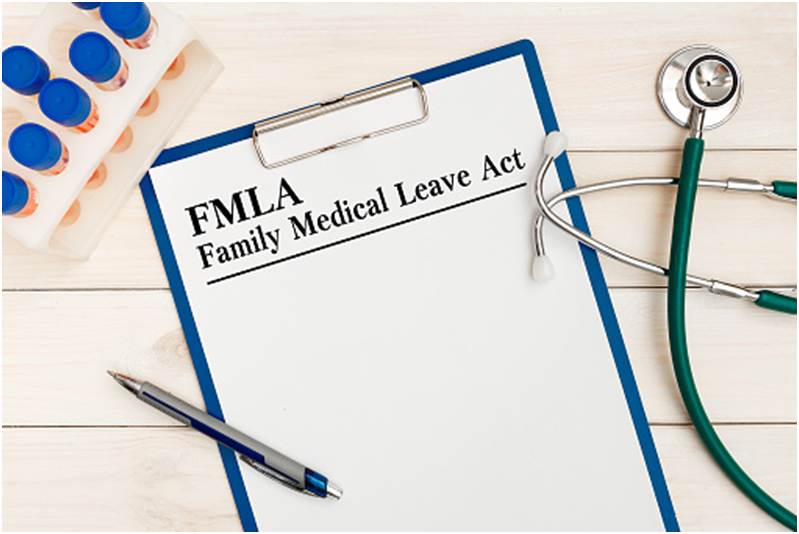 Source: Pixaby (https://pixabay.com/images/search/fmla/)
Qualifying Criteria
Whereas many organizations have their own set rules for granting FMLA to the employees, some basic measures are provided in the act as the qualifying criteria for attaining FMLA. These include;
Worked in the organization for at least 1,250 hours
The duration of job employment should be at least one year
The leaves taken can be for consecutive twelve weeks or could be in intervals
Reasons for Applying FMLA
The basic reasons as per granted by the FMLA act to attain leaves are;
 Severe personal health issues and medical conditions
Birth, adoption or foster care settlement of a child within 12 months of their birth
Need to take care of a family member with a serious medical concern
Needing to care for a protected member of the military with a serious medical condition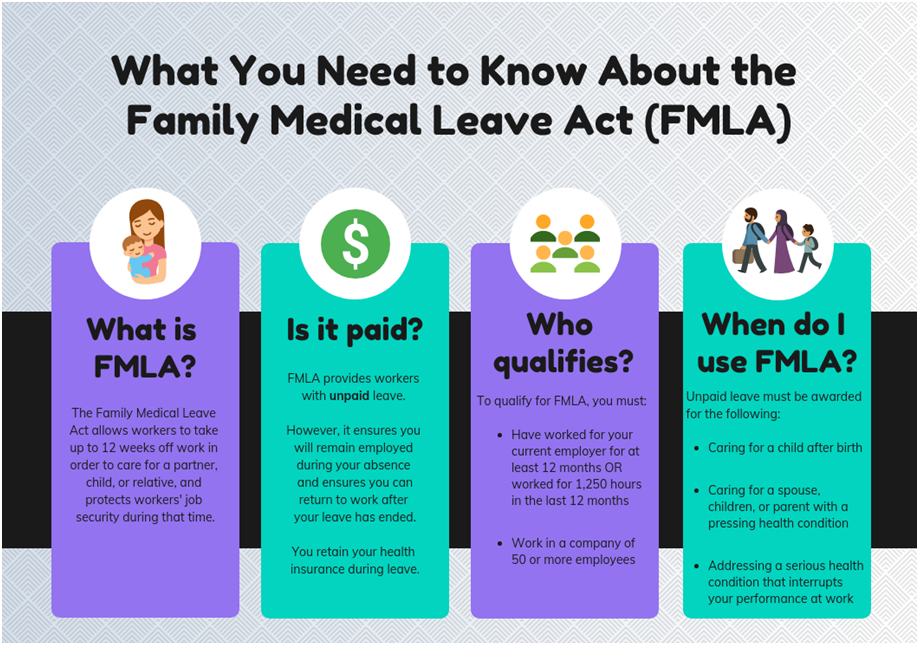 Source: Workers Rights
(https://medium.com/@workerrights/10-fmla-facts-you-need-to-know-108e9f8d58ab)
Benefits of FMLA
FMLA is like an employment protection act. It secures the job of a person who himself might need medical aid or anyone from his family like a sick child, ill parents, or spouse, who needs medical facilities. Not only that FMLA aids the employees in their time of need, but family medical leave insurance also serves some economic benefits which are as given;
Family and medical leave insurance upsurges labor-force contribution
Family and medical leave insurance increases employee maintenance and retention
Family and medical leave insurance also has certain positive influences on running a business
Family and medical leave insurance assist in lifetime salaries and retirement security among workers, especially women
Family and medical leave insurance increases the use of leave among working fathers·
Approval and Denial of FMLA
Though FMLA is a legal right and is widely practiced worldwide it has to be used carefully. For the approval of FMLA, the employee must provide proof or evidence of the reason why they require it. Providing proof means showing up the original documentation for illness, health issues, etc. that are prevalent in the employee or in any family member of the employee. Denial occurs in cases when FMLA is misused or requested for a reason that is not stated by the law. Employees might also use FMLA fake to get leaves which is morally wrong.
Source: The Daily Universe
(https://universe.byu.edu/2019/03/05/fmla-offers-limited-family-leave-protections/)
Organizational Responsibilities
An organization is entitled to inform its employees regarding the FMLA policy and other means that could be used to get medical leave. The HR department of the companies should respond timely to the candidates of FMLA.
Review the facts
Comprehend the company's practice
Answer requests in a timely manner
Communicate with the concerned department
Rearrange employee responsibilities