An itop screen recorder is an amazing tool for making the most of team meetings. The program includes several recording modes and features to assist you in getting the most out of your meetings. Set up your recorder and use iTop Screen Recorder to capture meetings, brainstorming sessions, and other events. To begin recording a meeting using the recorder, follow these simple steps.
Set Up Your iTop Screen Recorder
Do you want to know how to record a Zoom meeting? You must have the proper recording type. First, ensure that you have a video capture device, such as a webcam or USB camera. Then, on your PC, download and install iTop Screen Recorder. When prompted to set up the recorder, select yes and follow the on-screen instructions. After you've configured your recorder, use the "Record" button to begin recording your meeting. To record your conference in full-screen mode, hit F11 on your keyboard before selecting the record button in the program. If you need to record a specific window, use Ctrl+Shift+N before clicking the record button in the application.

How to record zoom meeting with iTop Screen Recorder
Step 1. Download and install iTop Screen Recorder
iTop Screen Recorder for Windows 11, 10, 8, and 7 is now available.
Step 2. Set Recording Preferences
If your speaker, microphone, and camera are connected to your PC, the screen recorder will automatically identify and switch them on. You can also disable it if required.
To select which area to record, click the arrow icon next to Full Screen. With this screen recorder for PC, you can record the Zoom conference in its entirety, the Zoom meeting window, or any specified portion.
Step 3. Start Recording
To begin recording the screen on Zoom, click the red REC button. Three seconds later, a toolbar appears in the bottom-right corner. Using the toolbar, you may pause or stop recording.
Step 4. Edit and Save (Optional)
After you complete recording the Zoom screen or presentation, it will appear under My Creations and instantly save to your hard disk. Click the Folder icon to open the folder where your recordings are saved. You may also transfer the recorded movie to a different folder.
To modify the recording, open My Creations and select the edit icon. Drag the progress bar to cut the video and export it for later distribution.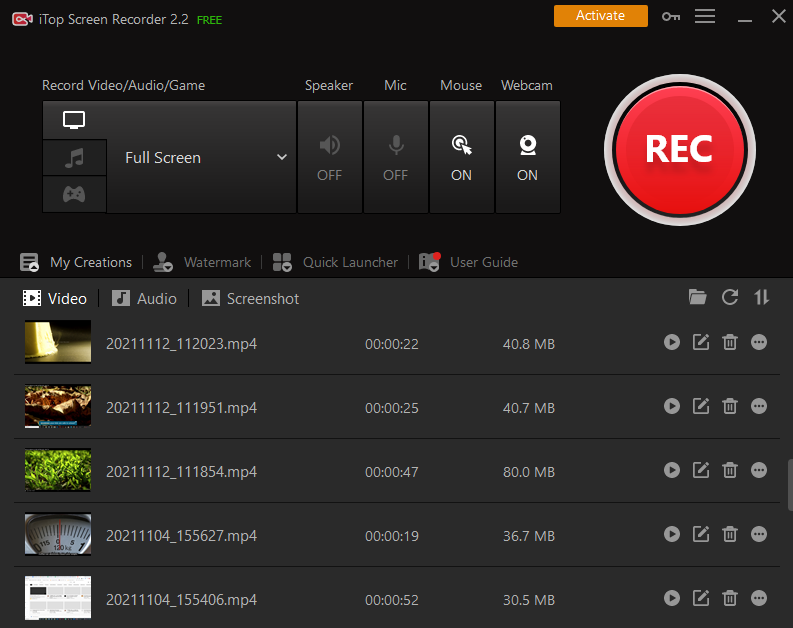 Benefits of Zoom Meeting
Easy to sign up:
Zoom Meeting is a simple web conferencing and video chat solution. You may join up in a few minutes and be ready to begin your first meeting immediately.
The video quality is top-notch:
Zoom Meeting allows voice and video conversations with high-quality audio and video. This allows you to conduct clear conversations with clients or coworkers worldwide, no matter where they are.
It's simple to share your screen during meetings:
The iTop screen recorder makes it simple to record Zoom meetings so that you may share any material on your screen during meetings. This saves time when showing a product or delivering process steps because you won't have to take time out of your meeting only for this.
Conclusion
Zoom meetings are an excellent method to connect with your team, clients, or partners. You may record meetings using iTop Screen Recorder and easily sync the recordings with Zoom.iTop Screen Recorder is ideal for recording meetings, seminars, and presentations.