A wedding is one of life's most significant and unforgettable events, so couples often strive to make it special while staying within budget. But weddings can be expensive, so many couples are searching for ways to reduce expenses. One area where couples can save money on decorations for the ceremony. In this article, we'll look at creative low budget wedding stage decoration ideas that will help create beautiful ceremonies without breaking your budget.
Why Select Low Budget Wedding Stage Decoration?
Wedding decorations can be one of the biggest expenses when planning a special occasion. But with low budget options available, you don't have to break your bank in creating an unforgettable event without breaking your budget. There are several reasons why you might select this route:
To save money
Prioritize other areas of the budget
Express creativity and personal style
Top 5 Low Budget Wedding Stage Decoration Ideas
Fairy Lights: Fairy lights can create a romantic and dreamy ambiance at your wedding. Use them to outline the stage, create a backdrop or even drape them around its edges for added beauty and texture.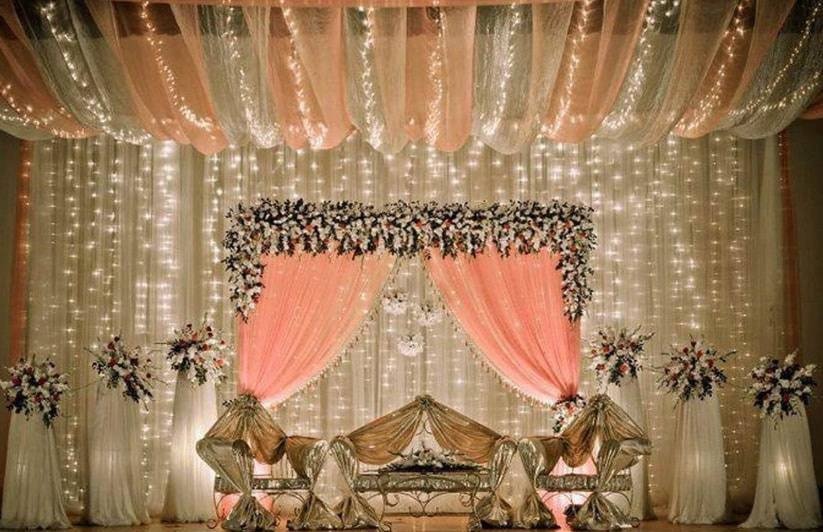 Paper Flowers: Paper flowers offer a cost-effective, non-permanent alternative to real flowers. You can customize them in any color or shape you desire and they look stunning on wedding stages. Utilize them as backdrops, garland decorations or table centerpieces – the possibilities are endless!
Balloon Decorations: Balloons are an exciting and vibrant way to adorn a wedding stage. You can use them for creating arches, garlands or even creating a balloon wall backdrop!
Drapes and Curtains: Drapes and curtains are an elegant yet simple way to decorate a wedding stage. You can use them for creating either a backdrop, or even as a canopy over the stage.
DIY Photo Booth: Decorating your wedding stage with a DIY photo booth is an exciting and interactive way to personalize it. Use props and backdrops to create something truly unique that guests will love.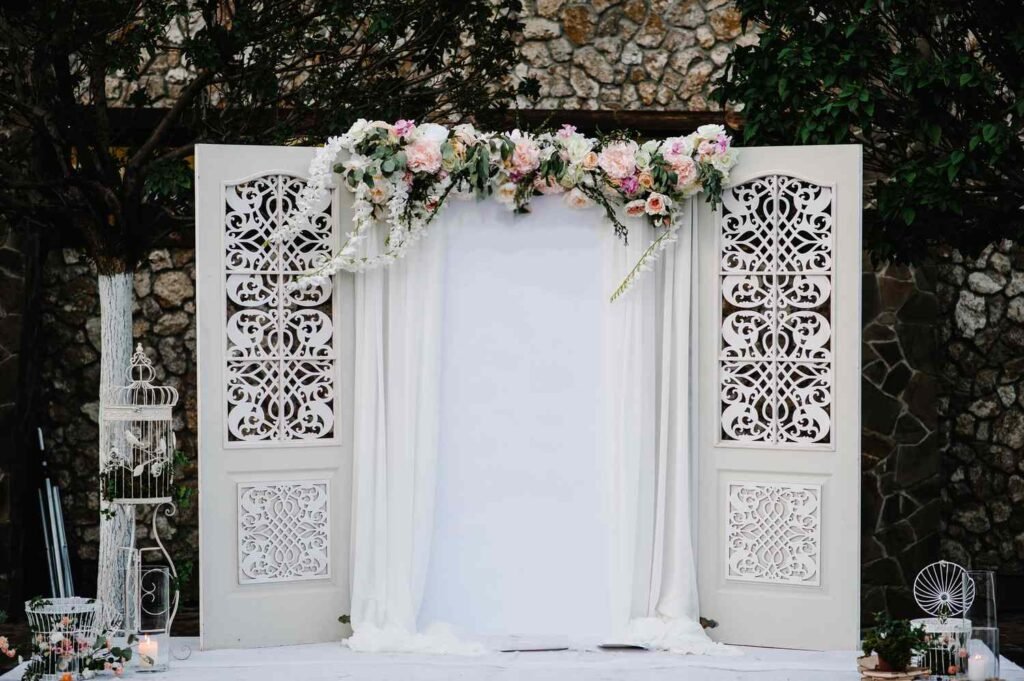 DIY Wedding Stage Decoration Ideas that everyone will Love
If you're feeling creative, why not create your own wedding stage decorations? Here are some DIY ideas to get you started:
Tissue paper pom-poms
Fabric garlands
Mason jar centerpieces
Origami cranes
How to Select the Ideal Color Scheme for Your Wedding Stage?
Selecting the ideal color scheme for your wedding stage is essential to create a unified and stunning aesthetic. Here are some tips to help you select an appropriate palette:
Consider the overall theme of your wedding.
Draw inspiration from social media or wedding blogs.
Choose colors that complement your wedding gown and bridesmaid dresses.
Don't be afraid to mix-and-match hues for a unique style.
Create an Expensive Wedding Stage Decoration on a Budget
With some creativity and clever tricks, you can make your low budget wedding stage decoration appear more expensive than it actually is. Here are some ideas to help create this look:
Add Lighting: Lighting can create a magical, romantic atmosphere in any space and make any space appear more expensive. Use warm lights such as candles or fairy lights to cast an intimate glow.
Add Texture: Texture is essential when designing wedding stage decorations. Fabrics such as velvet, silk or lace can be used to give your stage decoration some visual interest.
Add Metallic Accents: Metallic accents such as gold, silver and copper can make any decoration appear more expensive. You can incorporate metallic elements into your stage decoration through vases, candleholders or picture frames for a touch of classiness.
Opt for a monochromatic color scheme: Monochromatic schemes can make your stage decoration appear more sophisticated and expensive. Choose one color and use various shades of it to create an aesthetically pleasing ensemble.
Pay Attention to Details: Small details make a big impact when decorating your wedding stage decoration. Use high-quality materials and pay special attention to colors, fabrics, or flower shapes.
Commonly Asked Questions About Low Budget Wedding Stage Decoration
How can I make a low budget wedding stage decoration look elegant?
You can achieve elegance on a tight budget by paying attention to details, using lighting, adding texture, using metallic accents and selecting monochromatic color schemes. Incorporate high-quality materials while paying special attention to small elements like ribbon colors or fabric textures as well as flower shapes.
What is some budget-friendly wedding stage decoration ideas?
Some cost-effective decorations for the ceremony include candles and fairy lights for lighting, fabric such as tulle or organza for drapery, silk flowers instead of fresh ones, wooden or metal elements for centerpieces, and going monochromatic with your color scheme.
How can I save money on wedding stage decoration?
You can cut costs when selecting your theme by using items already in your home, purchasing materials in bulk, using silk flowers instead of fresh ones and DIY-ing your decorations yourself.
Can I hire a professional for low budget wedding stage decoration?
Absolutely. Look for decorators who offer budget-friendly packages and be up front about your spending so they can work with you to create an eye-catching yet budget-friendly setup.
When planning a low budget wedding stage decoration, what mistakes should I avoid?
When planning a low budget wedding stage decoration, some mistakes to avoid include overspending on unnecessary items, not having an organized plan or theme, not taking into account the venue and season, and being unwilling to explore DIY options or hiring a professional decorator.
Conclusion:
Your wedding day is one of the most momentous events in your life, so you want it to be perfect. But weddings can be costly, so many couples look for ways to save money. By opting for low budget wedding stage decoration ideas, you can create a stunning and elegant event without breaking your budget. With creative ideas like these, your guests will remember your stunning event for years to come.