We all are concerned about the outer appearance of our home and often end up investing a lot to make it awe-worthy. We all wish every visitor to look at our home with a sense of admiration and it's only natural. But how do you make sure you create this desired effect using your home's outdoors? While there are many architectural and natural elements that could work wonders for your outdoors, one option which will definitely spice it up is proper lighting. Eventually, lights are what make or break the look of your home. With the right kind of lighting, your home will become the talk of your town or city for all the right reasons. To guide you on this front, from our commercial electricians in Hollywood we have brought you the top 6 lighting options to light up your outdoors.
1. Outdoor Lamps and Lanterns
Lamps and lanterns are something that never goes out of style. May it be a modern look or a rustic one that you are aiming for, they work well with them all. When it comes to outdoor lamps, what acts as a cherry on top is the fact that they are portable and therefore the most convenient to use. As for lanterns, they are the best when you wish to illuminate a certain section of your home including any architectural details. Both lamps and lanterns provide a soft glow and are energy efficient. They could be small additions to beautify your entire setting. Usually, they are set up as porch lighting and are meant to illuminate your entrance in a classy and subtle way.
You may also have a look at Vont – Smart Electronics To Simplify Your Life.
2. Security lights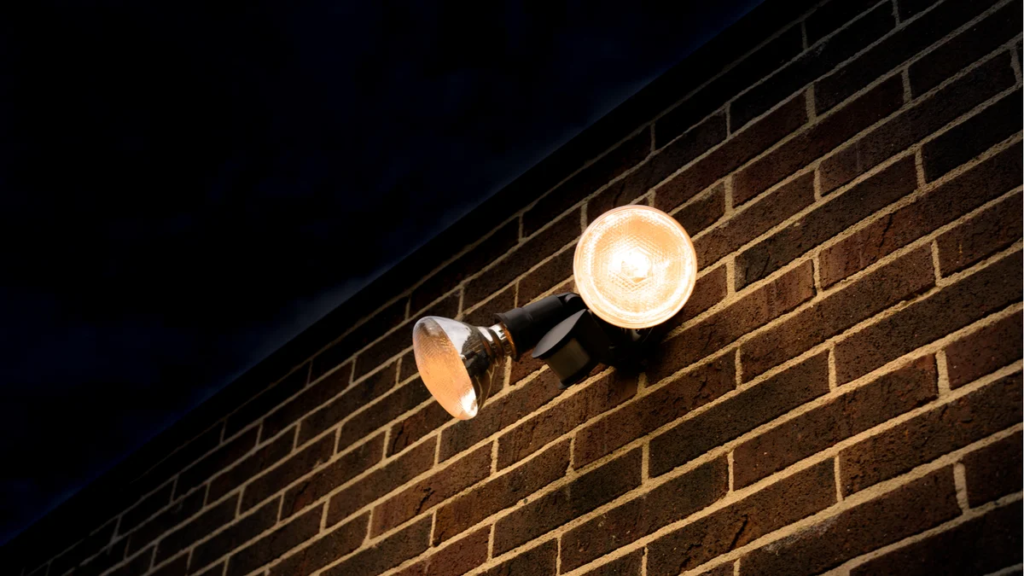 If your outdoor lights while beautifying your space also makes your home more secure, what can really be better than that. Nowadays, security lights are quite in trend and are a hot pick considering the benefits that they offer without compromising with your home decor. Security lights will be the brightest lights with sturdy light fixtures that would keep burglars and thieves at bay. There are four types of security lighting namely, standby, emergency, moveable and continuous lighting that you can choose from.
3. String Lighting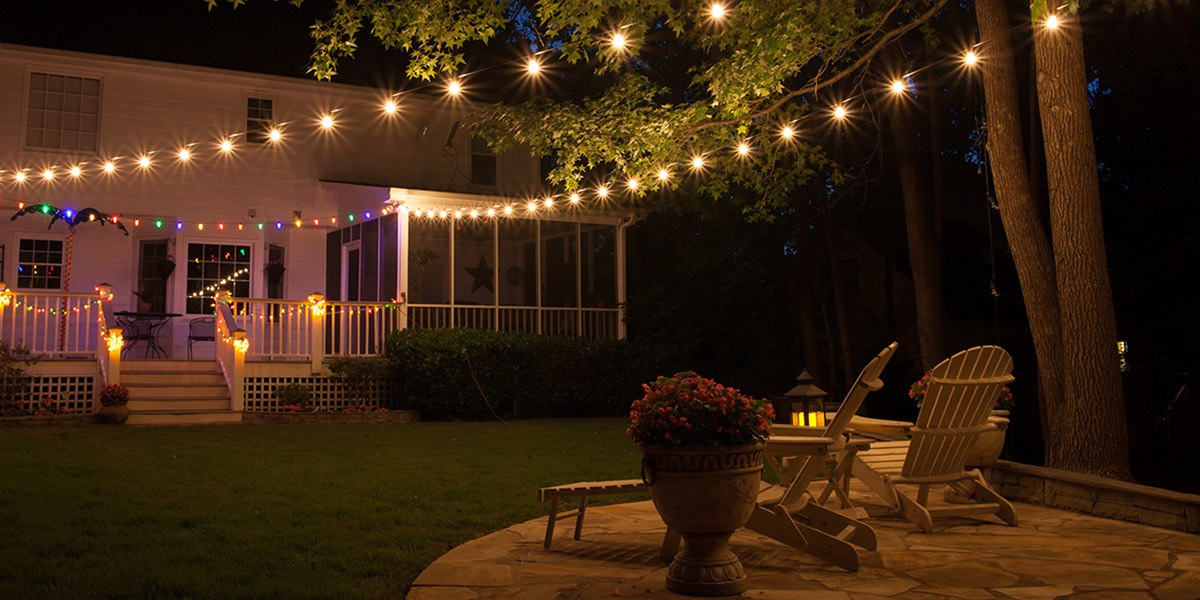 Consider any outdoor setting that you have seen in movies or cafes, string lighting would be a core component of them all. String lighting helps create a beautiful, warm, and aesthetically pleasing ambiance while running on low voltage. So these lights are not only good to the eye and best when you wish to create a particular mood but also pocket-friendly. As electricians, we would recommend you to buy ones with LED bulbs and are battery-powered that way they would be more durable and convenient to use.
Top recommended string lights.
Festoon globe lights.
Colorful string lights.
Lantern string lights.
Rope lights.
Fairy lights.
Incandescent rope lights
Vintage string lights.
4. Deck Lighting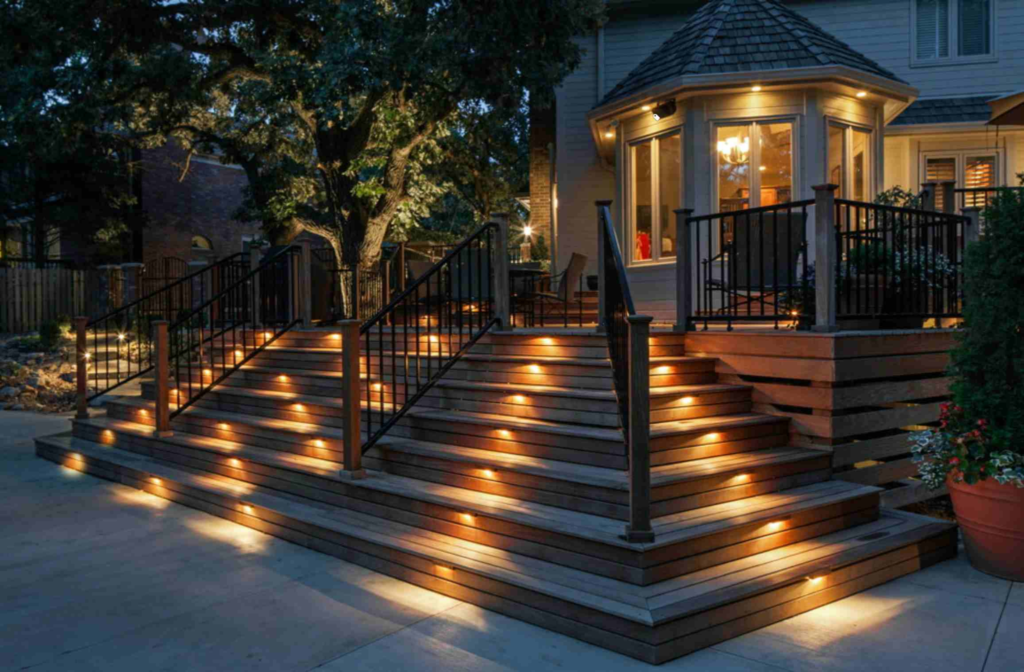 Deck lights while accentuating the beauty of your entire deck also protect your loved ones against any tripping accidents. Deck lights light up your stairs and help identify individual stairs correctly even when walking at night. In deck lighting, you can pick from high-intensity to low-intensity LED lights and highlight the space as much and as little as you want. Through deck lighting, you can also add value to your deck's entire architecture that otherwise goes unnoticed in the absence of proper lighting. As electricians in Melbourne, we are always there to fulfill all your deck lighting needs.
5. Overhead Lighting
When it comes to overhead lighting, there is a huge variety that you can choose from. The most popular ones are chandeliers, pendants, track lights, recessed lights, flush lights, and many more. You can always choose the one that suits the architecture of your home and use them to properly illuminate the entire space. Overhead lighting gives an indoor-like vibe to your beautiful outdoors and is highly recommended by electricians in Southeast Melbourne.
6. Streetlight Style Lighting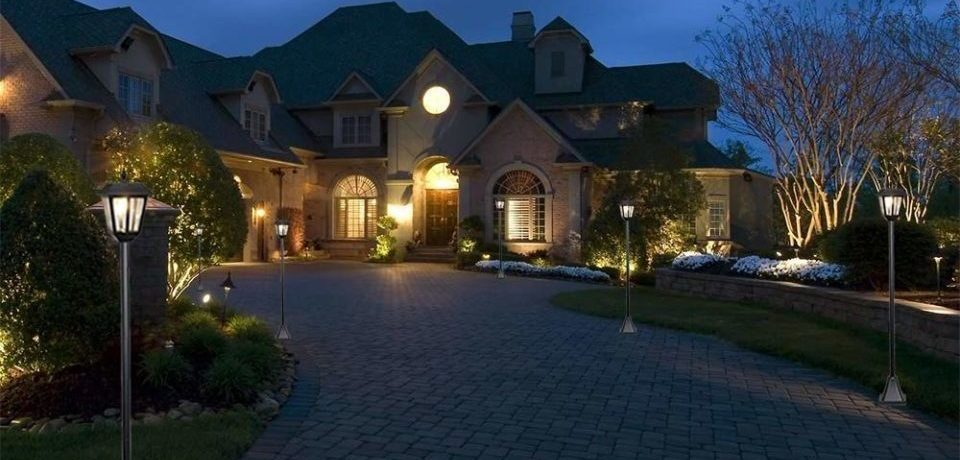 If you have a driveway, trails, or pavements in front of your house, streetlighting style could be used to highlight and demarcate the entire path. They are exactly structured like your normal streetside lamps but are given a beautiful design and finish to make them worthy of your home's exteriors. These lights will give a royal and classy look to your entire space and also help light up the entrance of your home.
So, these are the lighting options that can jazz up your home's interior the way you wish to. Depending upon your preference you can choose the one which matches your home outdoor goals, and our expert electricians at Direct Point Electrical will come in and install them in the location of your choice.